por A-24, em 03.12.12
Para quem não sabe, foram os árabes os primeiros escravizadores da História contemporânea, história essa naturalmente ofuscada séculos mais tarde, em que a culpa caíu sobre o nada escrupuloso europeu que ainda é tido como o verdadeiro racista e escravizador nos dias que correm. Abaixo segue um exemplo, postado inclusive no Facebook. É a Arábia Saudita no seu melhor.
Saudi Arabia, a place where one can still visit the seventh century, and not be in a museum.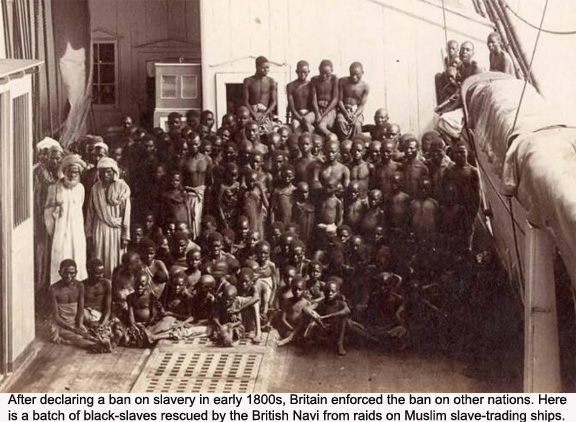 Islamic slave trade alive and well. Anyone who believes that slavery in Saudi Arabia is history, think again. I came across this on a Facebook posting in Finnish, where academics fluent in Arabic discuss the Middle-East. None of them questioned the authenticity of the screen capture and the blogger's post (in Arabic) about it.
NOTE: Anyone fluent in squiggly that has a different take on this, please contact in the comments.
 ABDUL FOR SALE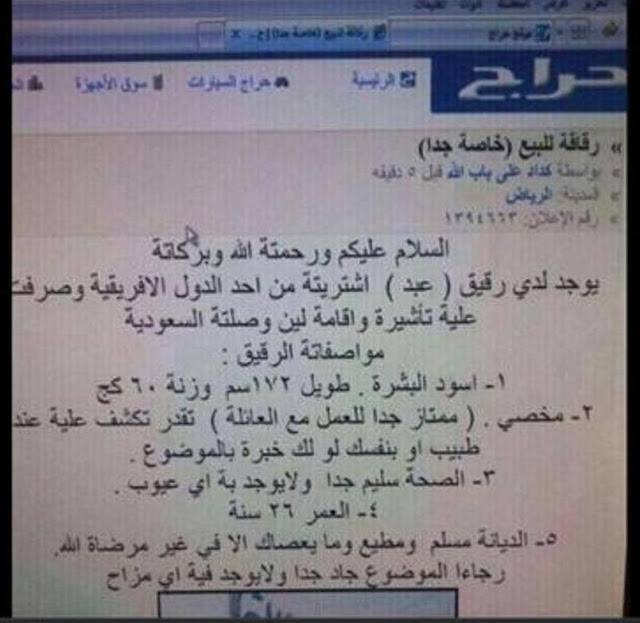 I saw this ad on facebook and publication not know how his health, but it seems to me that it is real. This site link advertising – Click here – and although removed from the site, but the ad title: "chip for sale (very special)" still exist in the top of the page and prove that he really is Matrouh.
I have a [male] slave I bought from an African country and arranged for his visa and stay till I got him to Saudi [Arabia]
1 – Black skin. Tall 172 sm. Weight 60 kilos.
2 – Castrated (excellent for working with a family) you can check him with a doctor our yourself if you have experience in the matter.
3 – [His] health is quite undamaged and has no imperfections.
4 – Age 26 years.
5 – Religion muslim and [he is] obedient and will not disobey you except in what displeases God. Please, the matter is very serious and is not a joke.